Welcome to the Highland Library Kids' Zone!
Teachers, you can find the most surprising treasures in our non-fiction collection! Call 248-887-2218 (option 4) for some great ideas!
If you need an overview, ask us for a quick tour. If you need help with the catalog, we'll be glad to show you how to use it!
Homework Assignments
Teachers, please let us know about any projects you've assigned, so we can have a heads up on topics.
Check out our Teachers' links: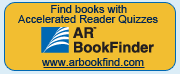 No Flying, No Tights - Graphic Novels
Michigan Authors & Illustrators